SPIDER-MAN – FAR FROM HOME: Alexis Wajsbrot – VFX Supervisor – Framestore
Vincent Frei | 16 juillet, 2019 at 18:00
In 2017, Alexis Wajsbrot explained the work of Framestore on THOR: RAGNAROK. He is back in the MCU with SPIDER-MAN: FAR FROM HOME.
How did you and Framestore get involved on this show?
Framestore recently worked with Cyndi Ochs (VFX producer) on THOR: RAGNAROK and they got in touch to ask us about our availability to help on SPIDER-MAN: FAR FROM HOME. I went to visit them in Leavesden before the shoot started and when the script was still very much in flux. Cyndi and Janek Sirrs (VFX Supervisor) really believed that the best sequence for Framestore would be the "Illusion Battle" and I agreed – it was definitely a creative and interesting sequence. Janek described the sequence as a horror movie parenthesis where Mysterio would tap into Spidey fears. He showed us the tone he had in mind; a Magritte horse painting, playing with perspective and references of night time environments only lit by a drone, so the light was moving and creating a very interesting effect on the shadows. We started to run some tests of this Magritte effect as well as the drone lighting. We were awarded the sequence of roughly 150 shots.
How was the collaboration with director Jon Watts and Overall VFX Supervisor Janek Sirrs?
It was a very collaborative experience. We started to work on the sequence which Proof had already previs-ed for the most part. The goal was to define the look of the key beats before Christmas, as we knew we would have very little time with the studio in the New Year as Kevin Feige and Victoria Alonso would be fully focused on delivering AVENGERS: ENDGAME. We did some rapid prototyping which was really well received and manage to get a first pass render of quite a few shots within the sequence. During the first test screening our sequence was the favorite! Jon Watts (the Director) and Marvel Studios decided to "plus" it significantly to make it a bit longer and even better. We went back to the drawing board for the whole thing and literally started from scratch with only four months to go!
From there, Framestore drove a lot of the creative process offering ideas / concepts / early animation blocking for the whole sequence. Jon and Janek were both great in giving feedback on our ideas, briefing us, making sure there was always an element of Mysterio in every shot and that the action was emotionally connected to Peter Parker. When we were done with the creative process we only had two and a half months to deliver the sequence!
There are two other examples of how good the collaboration between Marvel Studios and Framestore was, the first one being the way we handled the mocap: We blocked the animation of the whole sequence to a very good level, to nail timings / story / ideas. As soon as the studio was happy they organised a mocap shoot with Tom Holland that they achieved in the same way as an ADR session, delivering mocap per shot while looking at our animation / timing and even the framing. This allowed our animation team, supervised by Nathan McConnel, to just drag and drop the mocap from Tom Holland where needed to elevate the sequence.
The second example would be the way we handled MJ in the Eiffel Tower beat. We blocked the animation ahead of the shoot with a CG version of MJ, pre-lighting the scene, with precise lighting information for the position of the moon and the bright lights from the Eiffel Tower, and rendering it before passing to production. We provided techviz to the studio, for MJ placement, motion, as well as lighting information. This meant that what was shot on-set was the plate we needed – an example of how we, in the VFX department, can help to drive the shoot.
What was your feeling to be part of a Spider-Man movie?
I love Spider-Man and I really enjoyed the Sam Raimi movies and loved HOMECOMING so I was thrilled when we got awarded such a cool sequence on a Spider-Man movie!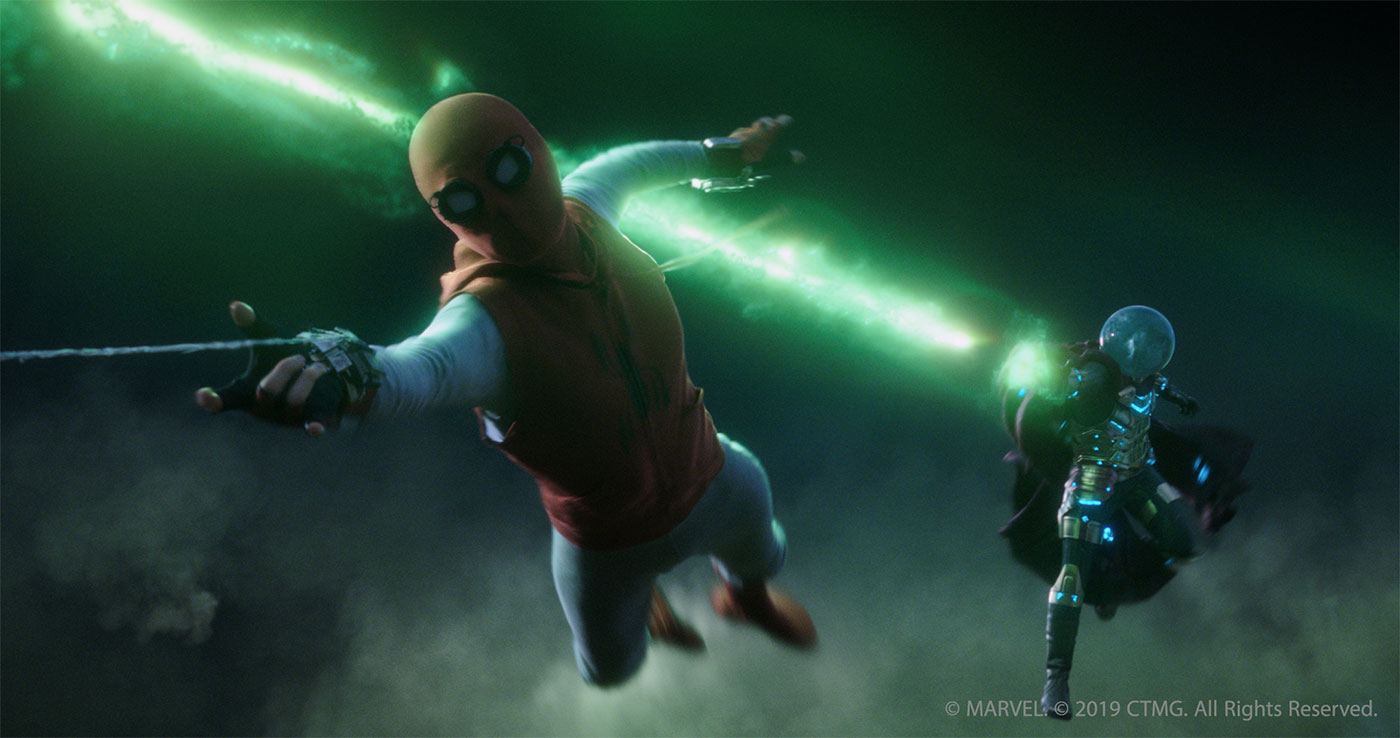 What were their expectations and approach about the visual effects?
Even before the sequence was awarded, Janek and Cyndi were clear that they needed a partner to come up with lots of different ideas in an efficient way: "We need it fast, not too polished, we don't need to make it work within your pipeline, we want ideas, rapid prototypes." It was all about the creativity, all about how we can make that sequence special. So we treated it quite differently to a normal project where we spend a huge amount of time looking at asset turntables, rigs, then lighting, then going into detail in the comp. Here we worked the VFX like you would do when painting; you start with a pencil to create the shapes, you get some initial feedback, then you move forward with big brush to get the mood in terms of colors and lighting and then you get your second round of feedback. On most of our ideas, that's where we knew if we had the right direction or if we needed to start again – then of course you start with your smaller brush to get into the very fine details. It was a really interesting process that worked really well for all these one-off shots.
How did you organize the work with your VFX Producer?
I had the chance to work with a very experienced VFX producer, Annette Wullems, at Framestore and she is amazing; she sees the big picture and makes sure that we are on track in not only delivering to the next deadline but the whole project.
We started with 'Key Shots' dailies, so we had all of our leads being able to jump in and discuss any shots together. In parallel we had the Framestore Art Department available to use for around 12 weeks (which is huge!), and each time we needed them, whether we had started the CG or not, they jumped in to help us shape the mood, the ideas etc.
From January 2019 until the delivery in June we organised the show a lot more traditionally with department dailies, apart from the special occasions where we really needed the whole team together to solve a challenge.
Related link : artofvfx